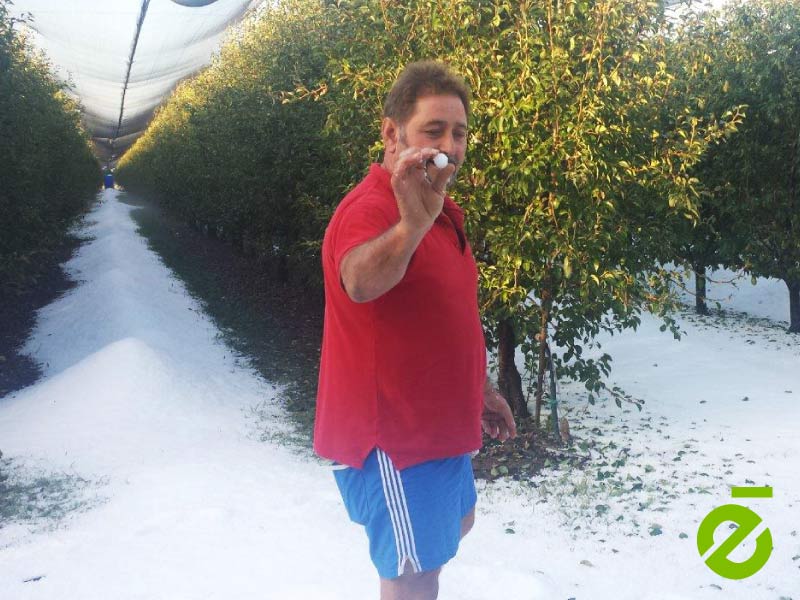 14 Oct

Spinazzè stands up against the perfect storm

An exceptional hailstorm devastated more than 100 hectares of orchards near the cities of Ferrara and Modena. Wind gusts of more than 120 Km/h destroyed entire orchards. One among the very few installations which was able to resist to the storm had been developed by Spinazzè in cooperation with Fruit Security and Austrian installators.
Flat net Spinazzè cover:

100% OK
Row length 360 m
Prestressed concrete poles 8,5×8,5 with 6×3 wire braids
Side poles 8×12 with 8×3 wire braids
Special helical anchors 160 cm/ Ø 26/400/8mm
Pole capo with chemical cement R = 370/400 Kg
Net clips every 150 cm
Anti-hail net Ø 0,36 – R = 4,15 kg
Home-made systems:

100% KO
Anchors too weak
Hut style systems: the cross rope breaks the poles, the net is not unloading properly.
Other installations: broken net, clips not opening.
Download PDF: "Anti-hail systems: a prime example".