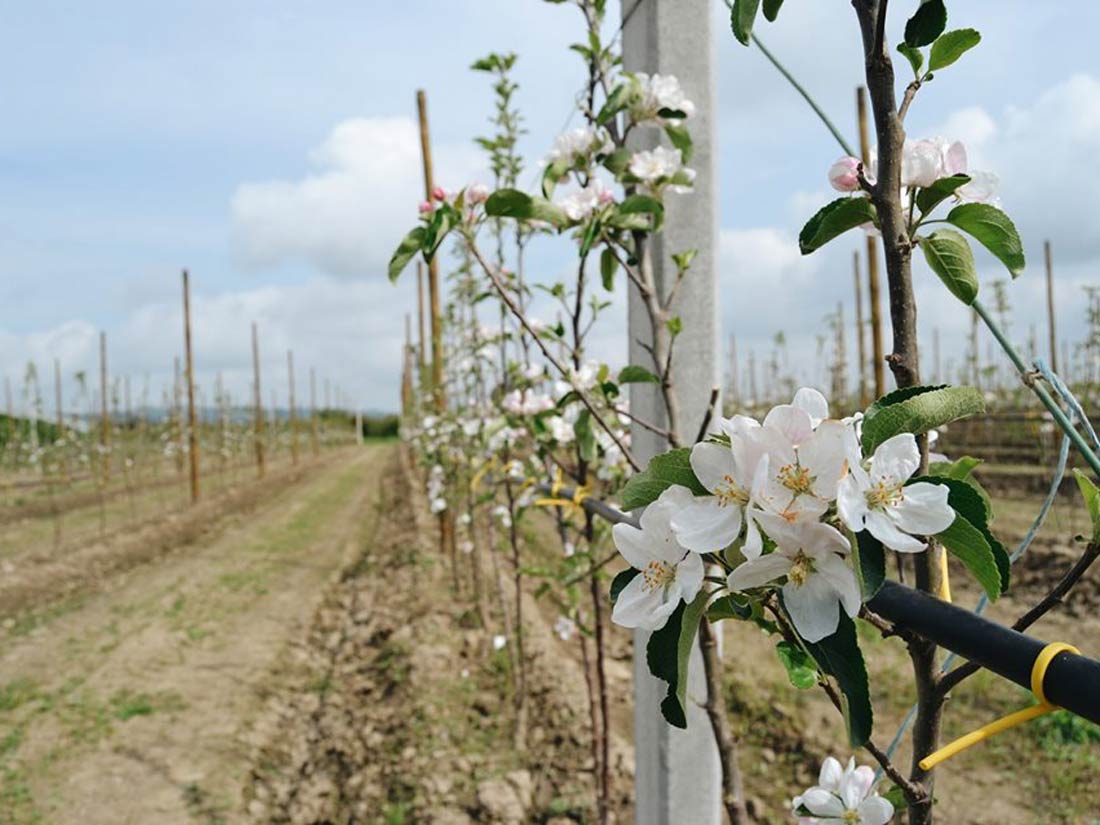 28 May

#GIRODIARIES | WEEK 2

From Romagna to Lago di Como, during the last week Giro d'Italia has touched different latitudes as well as different farming cultures. A journey as colorful and amazing as this race often is. Here is what we have discovered during the second week.
STAGE 10, RAVENNA – MODENA
GRANFRUTTA ZANI
Faenza
The second week at Giro d'Italia starts in Romagna between the provinces of Forlì and Ravenna.
This is a land of fruit and of orchards, mostly managed as farming cooperatives: in this area, harvest products are most often delivered to fruit & vegetables holdings and cooperatives.
The regional government has authorized yellow and red kiwi plantations. This latter one is a completely new variety that has been awarded the innovation price at Fruit Logistica 2019.
Supporting and covering structures are very important in this area, both anti-hail systems and anti-pathogens protections.
Photo-selective yellow netting systems are often installed in order to provide the trees with better solar irradiation.
Our most important client here is Gianfrutta Zani, based in Faenza: the estate's orchards are located in the whole province of Ravenna, down to Latina and Southern Italy.
Besides Kiwi fruit, peaches, plums and apples are harvested as well.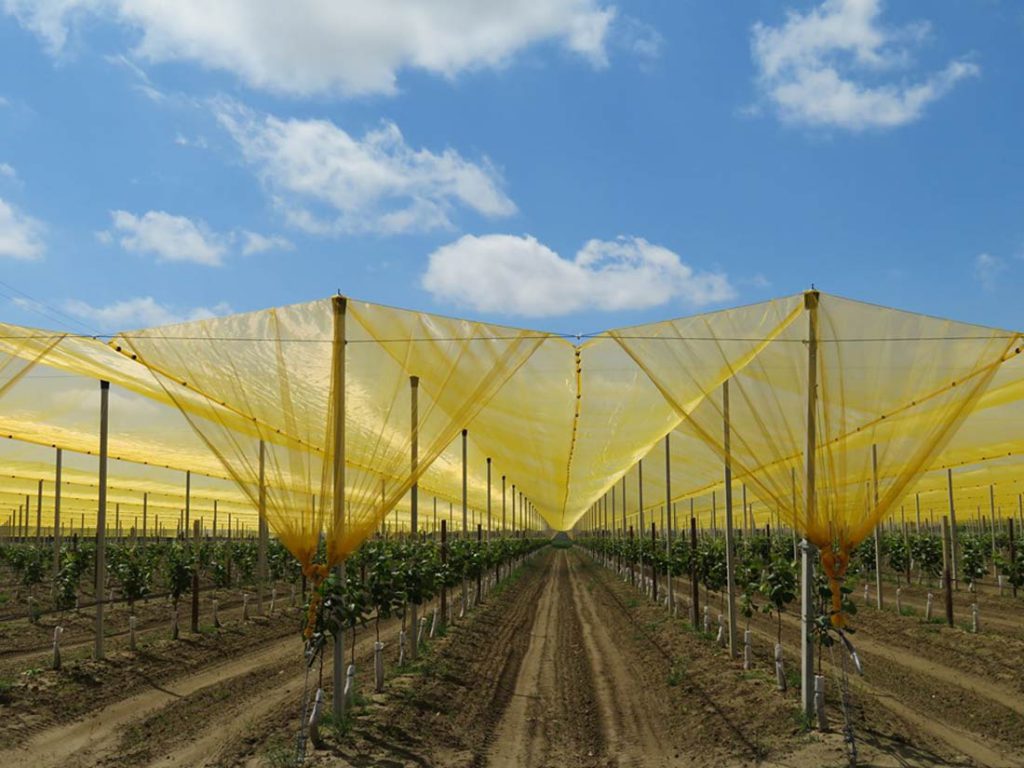 STAGE 11, CARPI – NOVI LIGURE
"LA GHIACCIAIA" FARM
Bomporto
At the heart of Emilia's fruit production area, "La Ghiacciaia" farm with its cherries, pears, and apples represents the typical fruit production along the via Emilia.
The farm's owner, Mr Stefano Barbolini lovely manages 50 ha of orchards featuring prestressed concrete poles by Spinazzè and anti-hail netting systems.
This farm also grows wineyards using "GDC" supporting systems.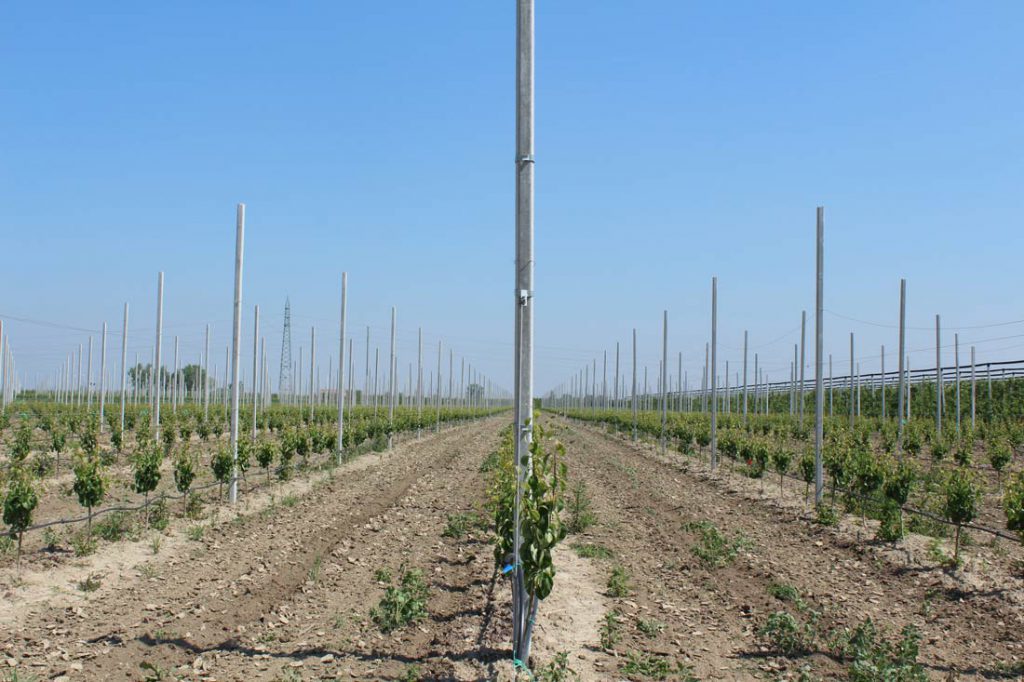 STAGE 12, CUNEO – PINEROLO
BONO COMPANY
Verzuolo
Fruit production in the province of Cuneo is mainly centered on apples, kiwifruits (which lately have been cut down due to bacterial rot), and cherries that have been growing as an alternative to other cultivation. In Verzuolo, our reseller Mr Giuseppe Bono owns a company managed by father and son and provides 400 farms with poles and nets by Spinazzè. When we went to see him he showed us all apple varieties grown in the area: Gala and Ambrosia by Rivoira group. As far as organic farming is concerned, Bono is cooperating with Biofruit on cherry orchards: they try to spray the orchards earlier in the season in order to reach zero residual and harvest fruits that has had a very low residual of pesticides.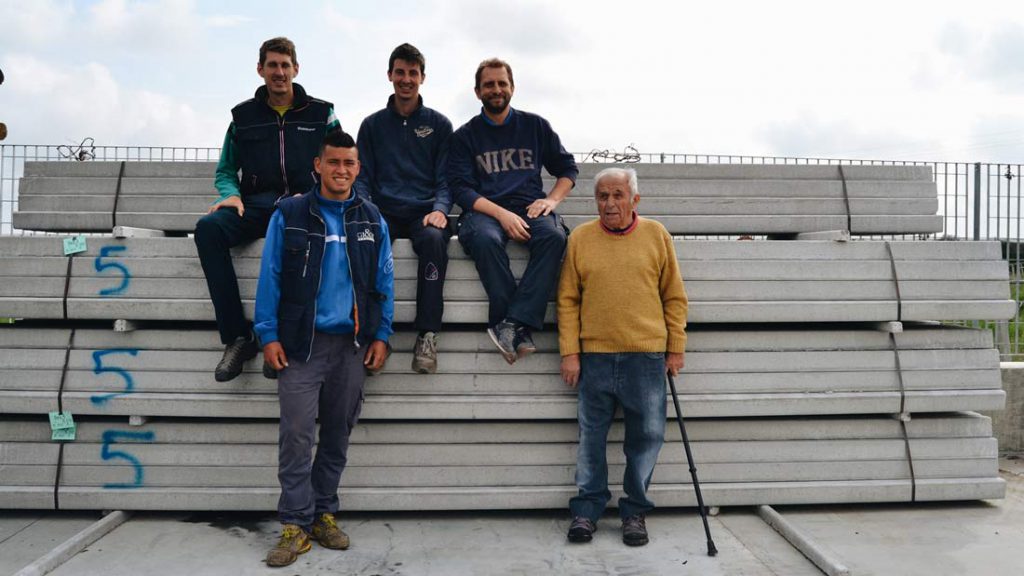 STAGE 13, PINEROLO – CERESOLE REALE
DEZUTTI
Cuceglio
We explore the area of Canavese before leaving for the most spectacular stage of Giro, arriving at Lago Serrù at 2000 m of height. Our reseller Dezutti supplies orchards and vineyards around Aosta, especially working for a treasure of this area: the local variety named Erbaluce di Caluso, extremely versatile, good both for sparkling wines and for passito. There are many legends on its origins and name and they are part of the cultural heritage that makes this par of Piemonte so fascinating. Following the best tradition, Erbaluce vines are grown after the "pergola canavesana" training system.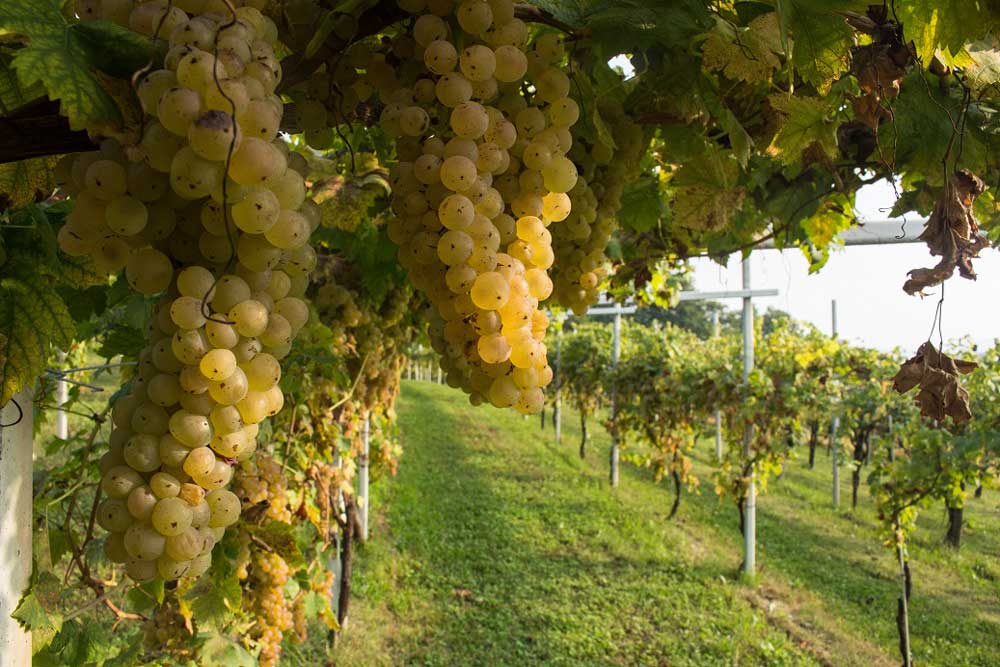 STAGE 14, SAINT VINCENT – COURMAYEUR
SIDE TO SIDE TO THE SMALL GROWERS IN THE VALLEY
Moving from Piemonte to Valle d'Aosta, a region of top quality wine growing, while fruit orchards are more present in the inner valleys. The most part of production comes from small fruits; raspberries, blueberries and tasty cherries that are also used in many local dishes. We have many passionate clients here that are still working in the same way as the old times: an heroic type of agriculture, climping slopes and mountains where man tries to find the right balance with the land and its needs.
STAGE 15, IVREA – COMO
FLOE FARM
Bregnano
Not only fruit orchards! In the province of Como, in cooperation with our partner Gianfranco Pilati, we have installed a new orchard featuring pre-stressed concrete poles and anti-hail nets for the young FLOE farm that grows roses and aromatic herbs for essential oils and ointments. Here, in 2 ha of land, plants of mint, lemon balm, rosehip, lavender for tasty natural jams,