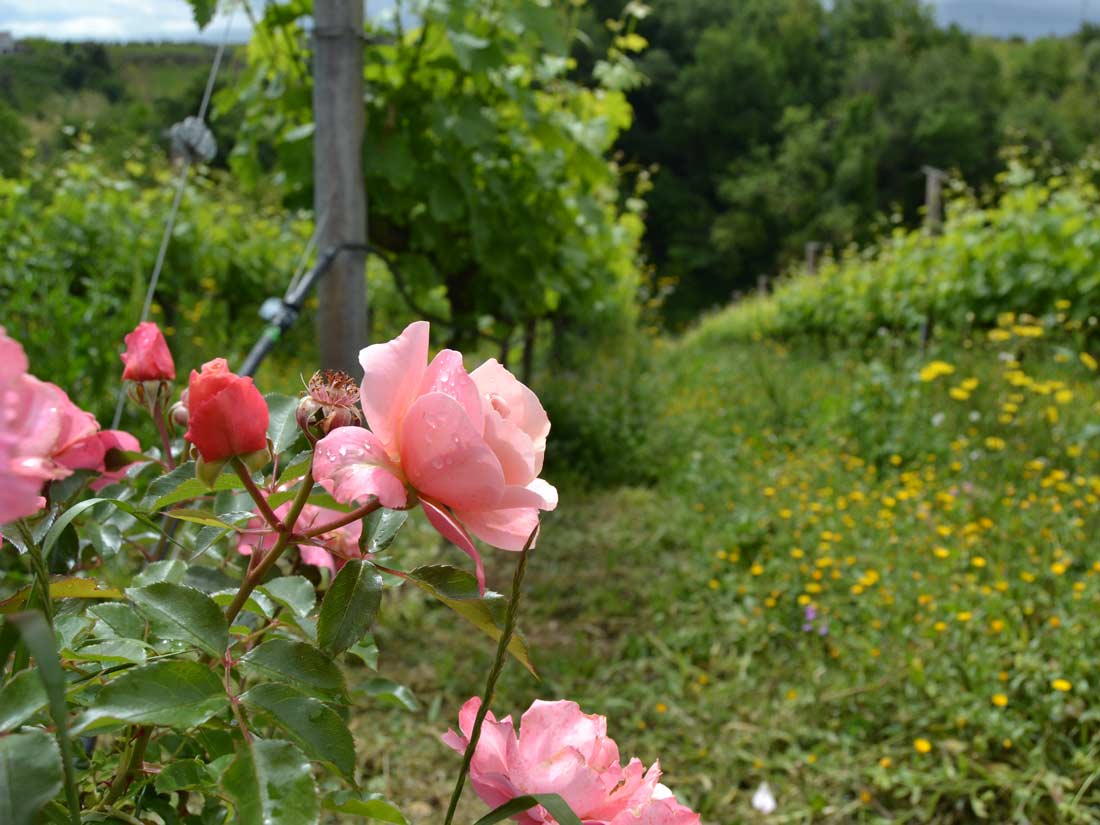 21 May

#girodiaries | week 1

Giro d'Italia is not just a cycling race, it is a journey through colors, flavors and traditions of our Country. We joined together our limitless passion for cycling and our work, and we have started telling the stories of all farms that have chosen us and are along the way of the pink caravan. Here is what we have discovered during this first week.
PRESENTATION OF GIRO D'ITALIA
santa giulia FARM
San Pietro Capofiume
A case of excellence for the great start of Giro d'Italia in Bologna. Santa Giulia farm in San Pietro Capofiume was born from the passion of Ceccarelli family, now at its third generation of fruit dealers. Ceccarelli is growing pears side by side with many farmers along the Italian peninsula that have been providing them with their products for the last sixty years, from Basilicata to Puglia, from Emilia Romagna to Veneto.
A new installation by Spinazzè is being completed right here at the moment, featuring a 16ha single block, with a half-flat net covering system, complete anti-insect closure and covered headlands. This installation features a trapezoid plant shape with lateral tunnel closures on external lines that allow vehicles to transit all under the same covering system accessible from a gate next to the farmhouse.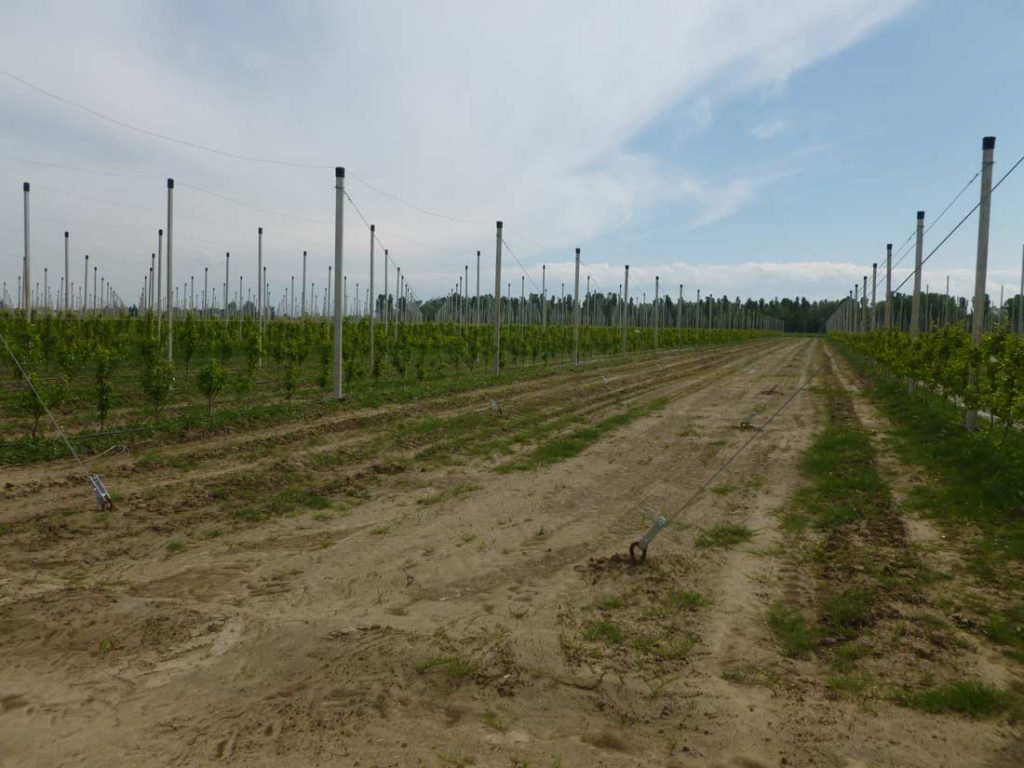 prologUE
BRUNELLI farm
Argelato
The Giro tells great little stories of sport: we went to see Michele Brunelli, former italian tug of war champion, that now manages his 28ha entirely organic farm (vineyards, pear and apple orchards).
Associate advisor of Orogel Fresco, Mr Brunelli has embraced covering systems with anti-insect and anti-hail nets since 2010.
His single row installations have been built by Spinazzè, partially with concrete poles and partially with wooden posts.
These covering structures feature both complete protection against insects like Carpocapsa or Asian stink bug and complete anti-hail protection, with the great advantage of avoiding vertical pressure due to accumulation of hail stones on the roofs. This characteristic is now showing long durability of the covering clothes whose polyethylene threads suffer no laceration due to the hail load.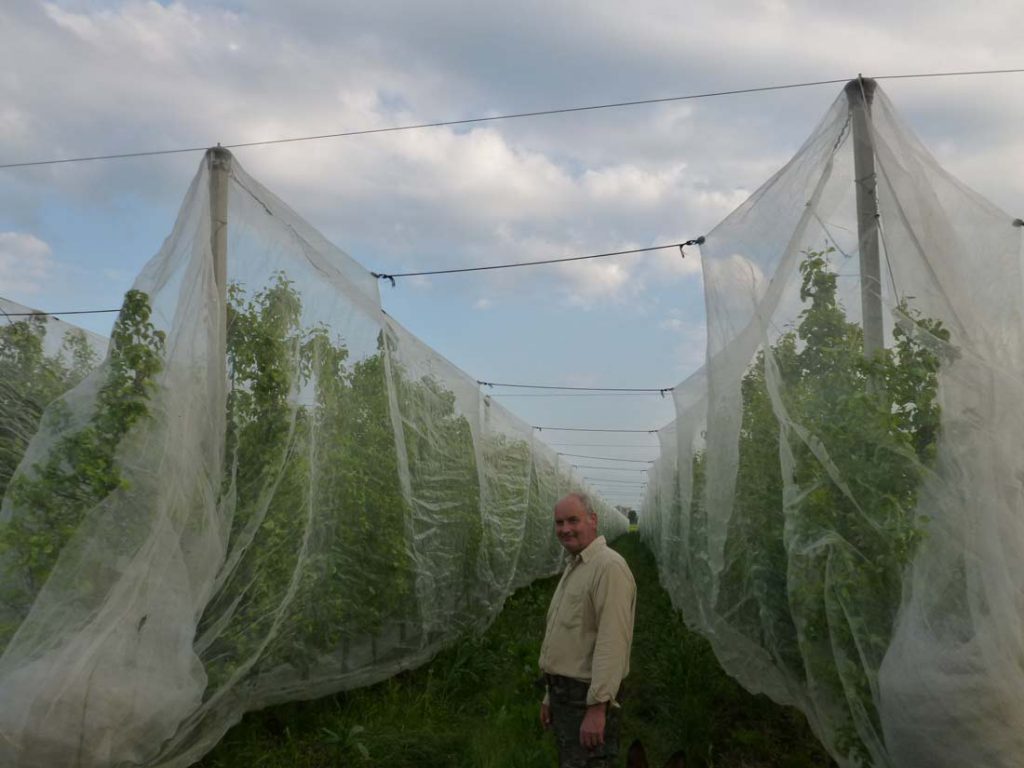 STAGE 1, BOLOGNA-BOLOGNA
I CARRI FARM
Vicchio
I Carri Farm in Ponte a Vicchio features around 20ha of entirely organic orchards. They have chosen to plant local rare varieties, such as "uva fragola" grapes, with the aim of gaining back the typicality of the territory. Fruit juices produced here are put on the market with an added value: not only they are entirely produced with fresh fruits but their geographical denomination is preserved as well. Recently an important investment has been made on a new fresh fruit transformation plant that will reduce the production chain and the environmental impact as well.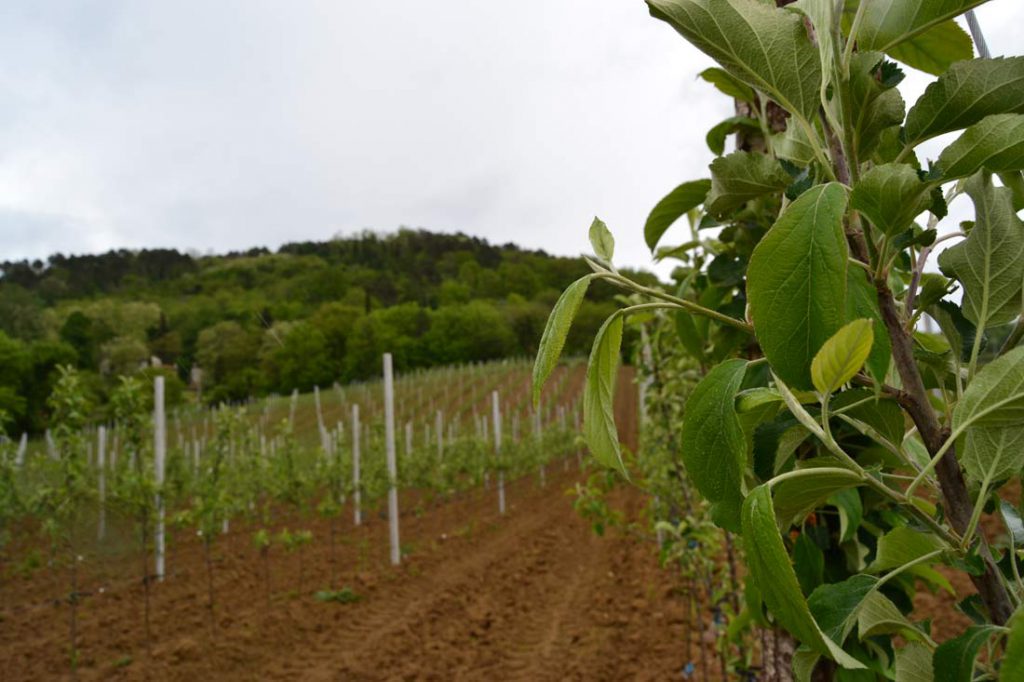 STAGE 2. BOLOGNA-FUCECCHIO
PODERE FONTECORNINO
Montepulciano
Immersed in the gentle and evocative hills of Tuscany, Podere Fontecornino is an organic farm that has been growing apples and producing sweet juices and fine ciders for three generations.
Many varieties are grown here in harmony between man and nature respecting mutual needs. Nature itself sets the rythm of life and work, respecting cycles and producing top quality fruit.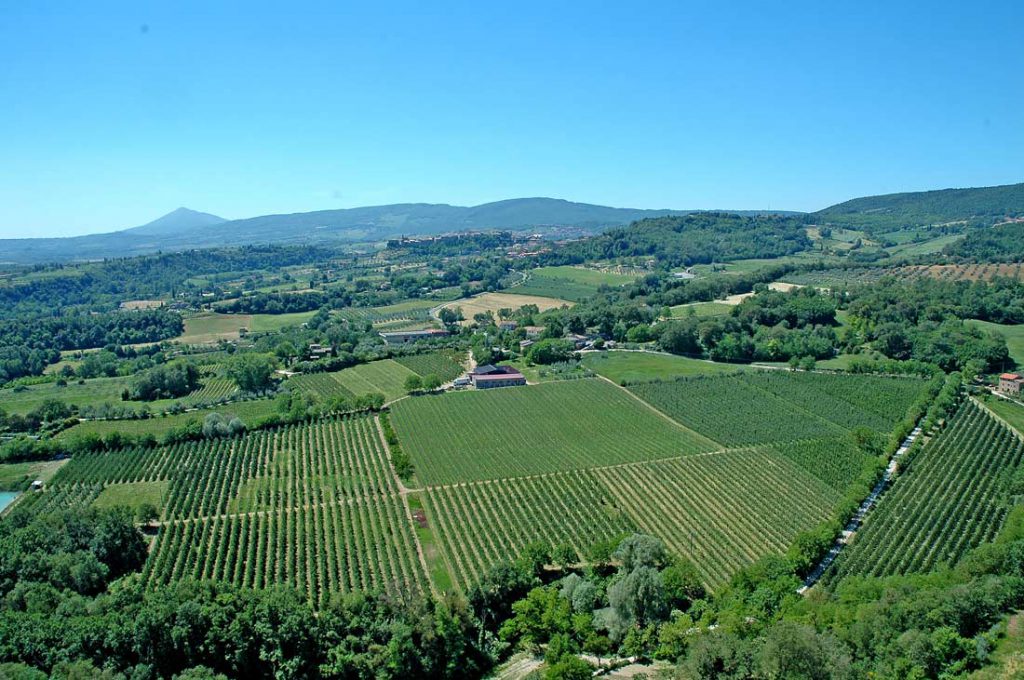 STAGE 3 AND 4. VINCI-ORBETELLO. ORBETELLO-FRASCATI.
BAGAGLINI FARM
Velletri
Romas's hinterland is famous for all different kiwi varieties that are grown in this area of Lazio. Bagaglini farm in Velletri is the biggest fruit exporter in this territory. The farm was born in the end of the Seventies thanks to father and son's passion for agriculture and today counts more than seventy employees and 100ha of cultivated land. The entire fruit production is organic and focused on the Latina Kiwi IGP: its characteristics make it an excellence product. This fruit, imported in Italy in 1978 has soon become a symbol of this region. The farm has an oenology project centered on the revival of local ancient varieties and aims at becoming entirely biodynamic in 2020.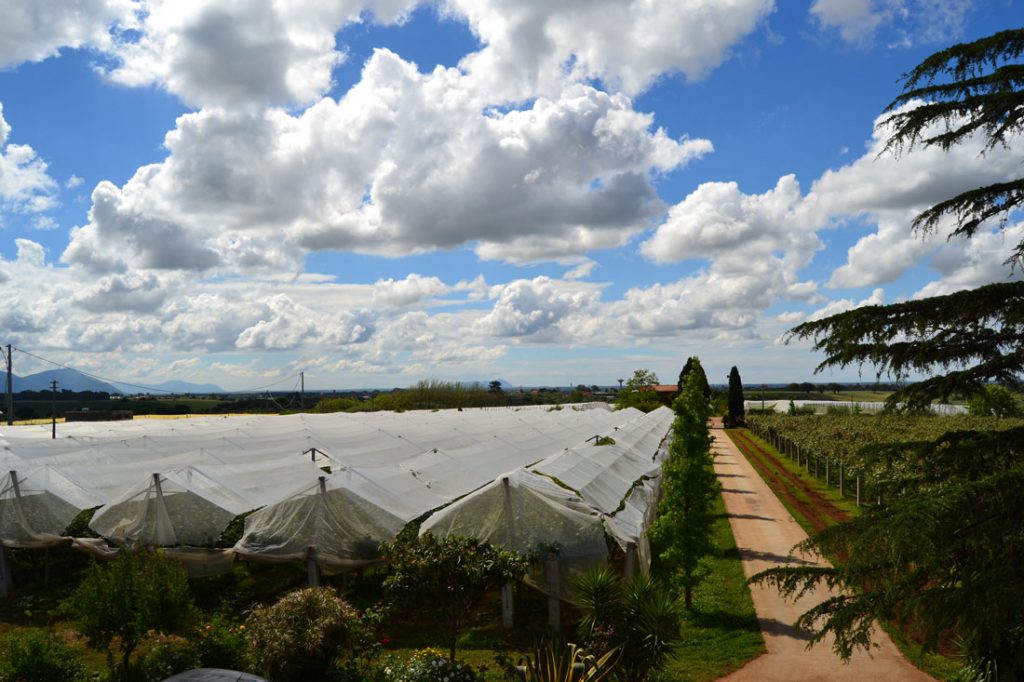 STAGE 5. FRASCATI-TERRACINA.
SCHIOPPA FARM
Carinola
Alessandro Schioppa's farm was founded in 2000 and extends for 10ha cultivated with apple and pear, featuring an incredible number of varieties. Coscia and Carmen are the most grown pear varieties; Golden B, Fuji, Annurca, Pink Lady, Shiniko Red, and Devil Gala as far as apples are concerned. Cherries are also grown in a smaller part of the farm land. Covering systems with precompressed poles all feature a complete anti-insect and anti-hail netting system in order to prevent cracking on fruits (i.e. fruit cracks and cannot be sold on the market). For obtaining the best quality all trees here are provided by Vivai Mazzoni.
CASTELLANO FARM
Carinola
Nicola Castellano's farm is now at its third generation, spanning almost over one hundred years of activity. The fruit production, which has always been centered on peaches, has taken a new direction in recent years, adding a few pear varieties in order to differentiate supply on the market. All anti-hail and anti-insect covering systems here feature prestressed concrete poles by Spinazzè.
MANCINI FARM
Mondragone
Mancini farm grows Coscia and Carmen pears and the most appreciated apple qualities. The farm sells its products in the lower Lazio region and in the Caserta area. Mr Mancini started its activity on the father's land carrying forward the family tradition and becoming himself a true professional in this sector.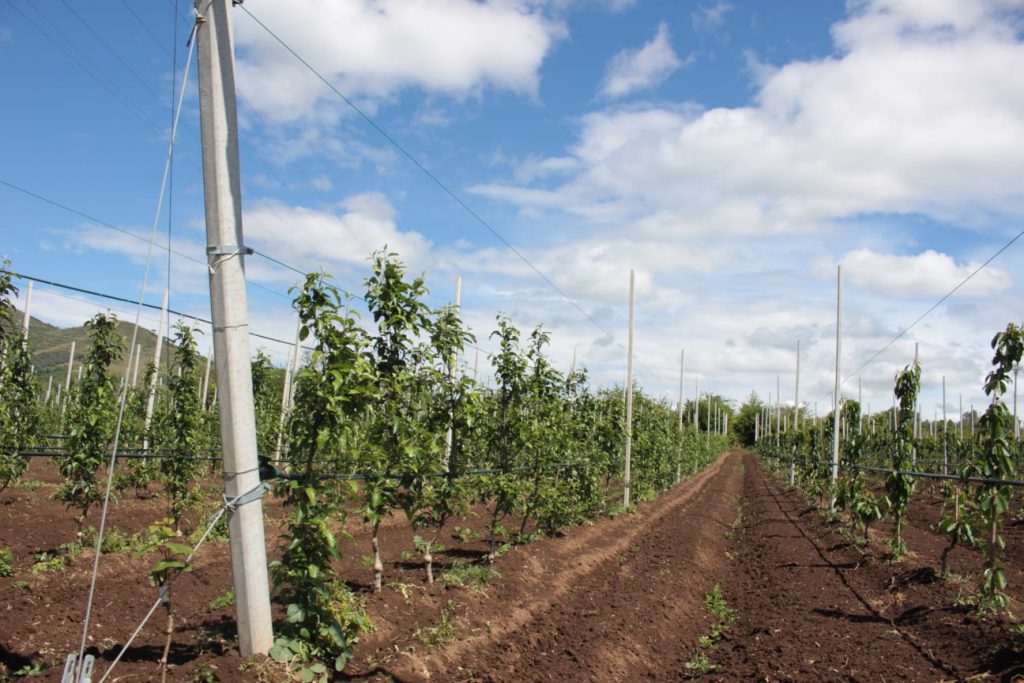 Stage 6 and 7. CASSINO-S.GIOVANNI ROTONDO. VASTO-L'AQUILA.
FARNESE wines
Ortona
Passion for cycling is often connected to a great love for territory. Valentino Sciotti is an example of this. With his farm he sponsors Nippo-Vini Fantini team that is racing at Giro d'Italia. His winery "Caldora" in Ortona has welcome us to Abruzzo in a rare sunny morning in this unusual spring. Wines like Montepulciano d'Abruzzo and Trebbiano d'Abruzzo are produced in this area, in a truly unique location completely in harmony with nature. The vineyard, managed in every detail, is supported by Spinazzè poles. The sight here is fascinating and tells a lot about the temper of this region.
STAGE 8. TORTORETO LIDEO-PESARO
PODERE CASTORANI farm
Alanno
Great sport stories always fascinate us. F1 champion Jarno Trulli, after leaving the F1 circus, has devoted himself heart and hand to the historical Castorani farm, where, around the historical mansion governing 30ha the classical Abruzzo wines are produced, from Montepulciano to Passerina and Pecorino, all grown without pesticides or chemical fertilizers. Here cor-ten poles by Spinazzè merge with the hills, with the lowest impact on the landscape and extreme practicality during harvest time.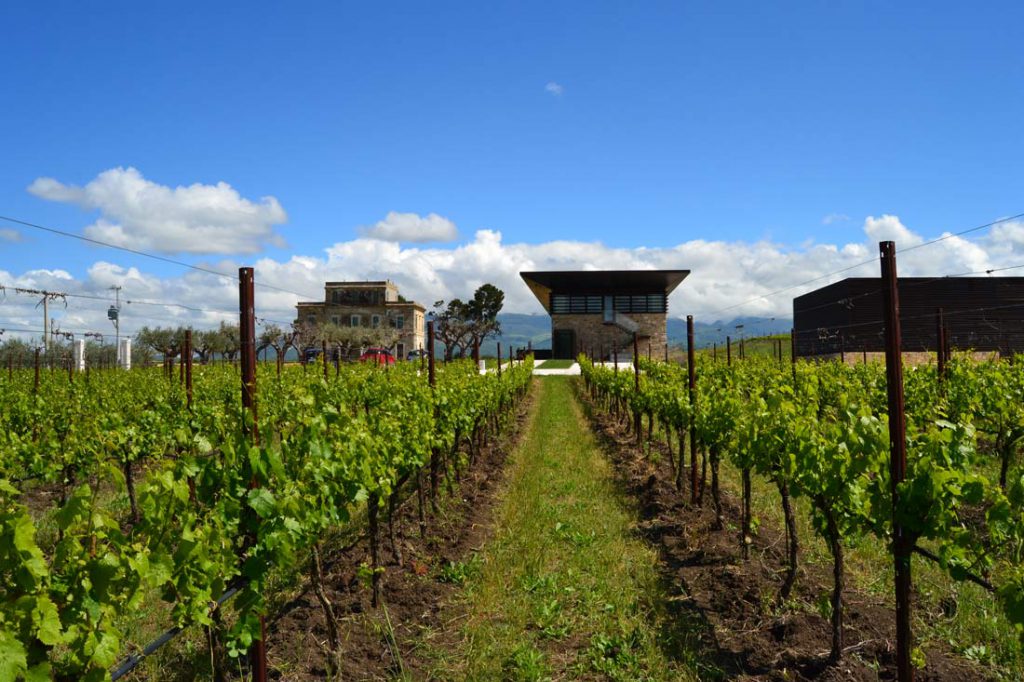 stage 9. RICCIONE-SAN MARINO.
TREMONTI farm
Forlì – Imola
Tramacchia's family Tremonti farm is constitued by two main estates, one located on the Imola hills, the other on the Forlì hills where San Giovese, Albana, and Trebbiano are produced. The total land surface is around 55ha, all cultivated with grapewine. Their vineyards are supported by Spinazzè poles, and are conducted according to the principles of organic farming, embracing natural production from vineyard to winery. In the area of Imola fresh and lively wines are produced, near Forlì the wines become more complex, but the common thread remains that one of keeping up with the most authentic Romagna's wine making tradition.