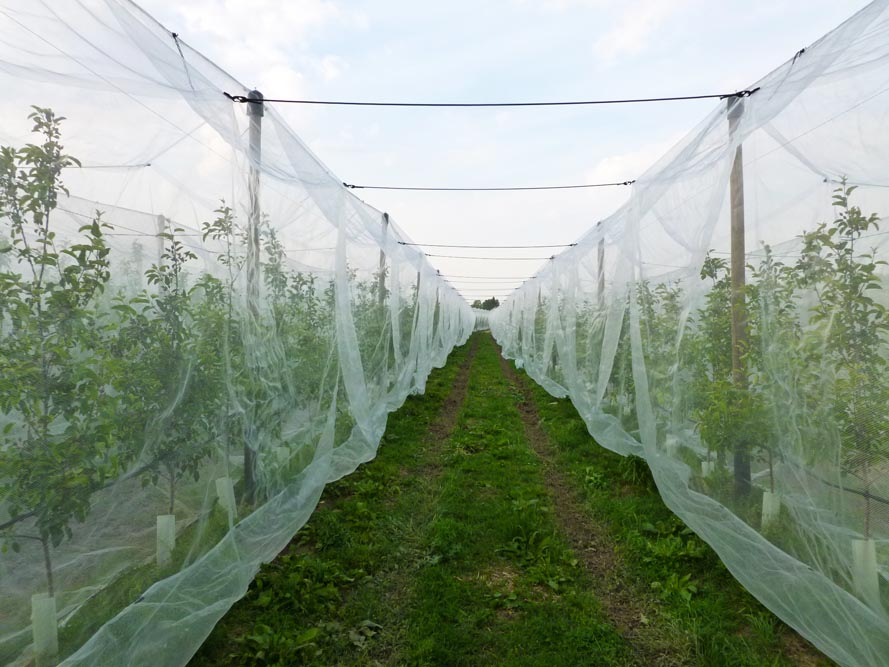 19 Jun

#GiroDiaries | The farms | The Great Start

Emilia Romagna is a generous and rich land, well known for its cooperative-based fruit and vegetable production. This is a special place to start our three-week adventure at the Giro d'Italia, which will bring us from the sea to the mountains, discovering the unique territories of the Italian peninsula. 
EMILIA ROMAGNA and single row orchard installations

In the last ten years, single row anti-insect and anti-hail netting systems have hugely developed in the area between Bologna and Ferrara. This was made possible thanks to Dr Vergnani's perseverance. He has firmly sustained the development of this kind of orchard installations in order to push organic farming in an area where conventional agriculture had been lowering profits for smaller farms.
After graduating in Agricultural Science at Università di Bologna, Dr Vergnani has been working as a consultant in the fruit production sector for more than twenty years; today he his the consultant of a total farm land of 250 ha between Bologna, Ferrara and Modena, where both organic and conventional pear and apple orchards are grown. He is also in charge of the technical department at Orogel Fresco in Cesena, he often cooperates in research projects at the CRPV, Università di Bologna and the Phytosanitary Dpt at Regione Emilia Romagna; he also counts more than fifty papers published on the most important scientific journals.
In 2007 Dr Vergnani started to study the single-row netting systems developed in France, following the example of Guilhem Sévérac, a pioneer of this technique.
One year later he started to test these systems on the field, building the first installations and measuring the first results. At this point he clearly understood that this new model of production was opening the way for sustainable fruit production.
In 2009, seeing the promising results of the first tests, the members of Fruit&Vegetable Cooperative Valle del Reno (today Orogel), started to install the first single-row systems for orchard, with the aim of converting the production into organic farming in order to enhance profitability and protect the environment.
Today, farmers keep on building this kind of orchard systems with great results.
Below are a few farms advised by Dr Vergnani that are using Spinazzè poles and netting systems in their orchards.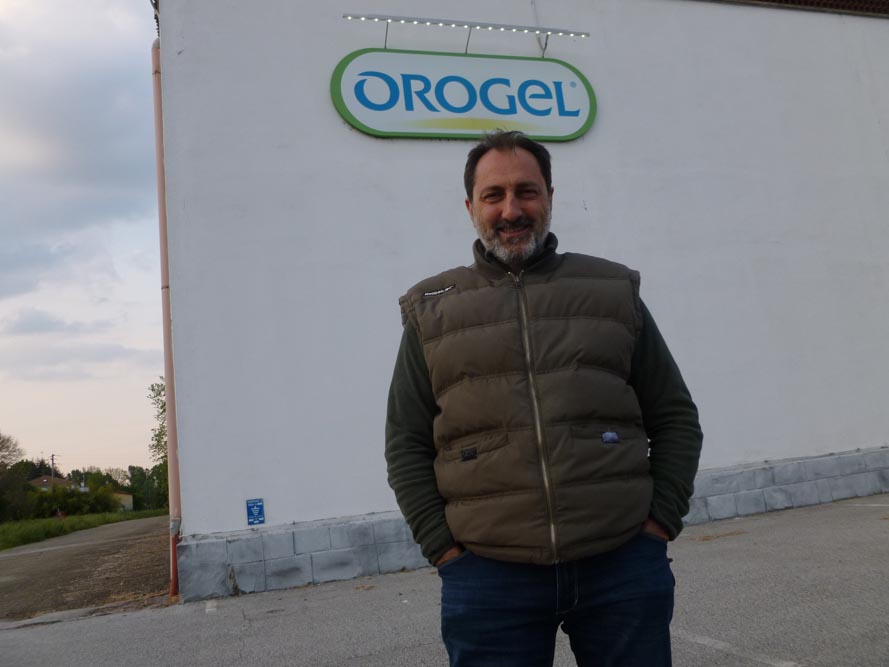 Brunelli's farm
Argelato
Mr Michele Brunelli is former Italian tug of war Champion and today he is managing his 28 ha farmhouse growing organic vineyards, pear and apple orchards.
Member and advisor of Orogel Fresco, since 2010 Mr Brunelli has enbraced anti-insect and anti-hail systems for orchards.
His single row orchard installations have been developed by Spinazzè using both prestressed concrete poles and wooden poles.
The covering structures offer complete protection against insects such as carpocapsa, Asian stink bug and protect against hailstorms having the great advantage of zero hail loads on the nets.
The white netting systems have been showing great durability due to the fact the polyethylene threads are never stressed by the vertical load coming from hail storage.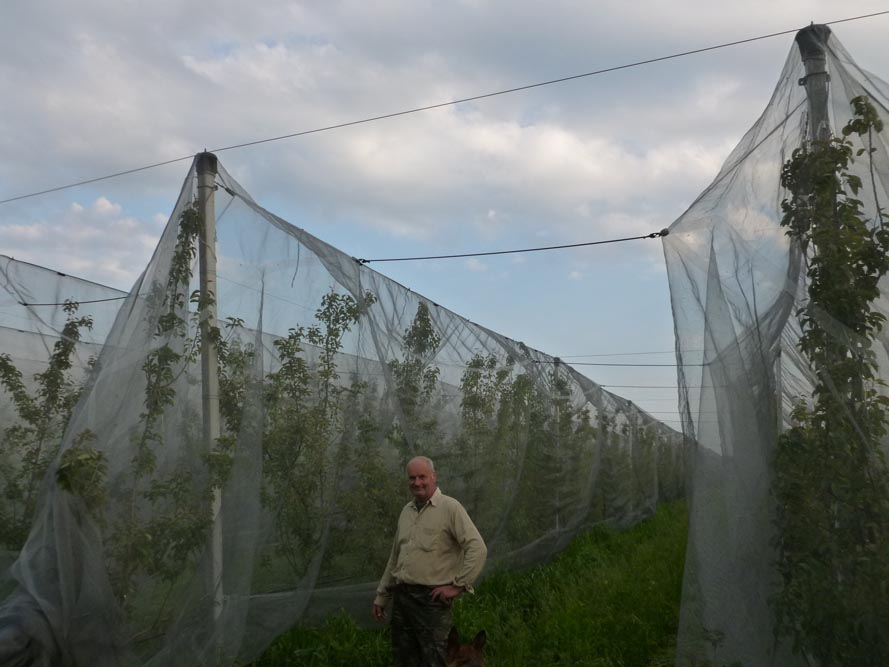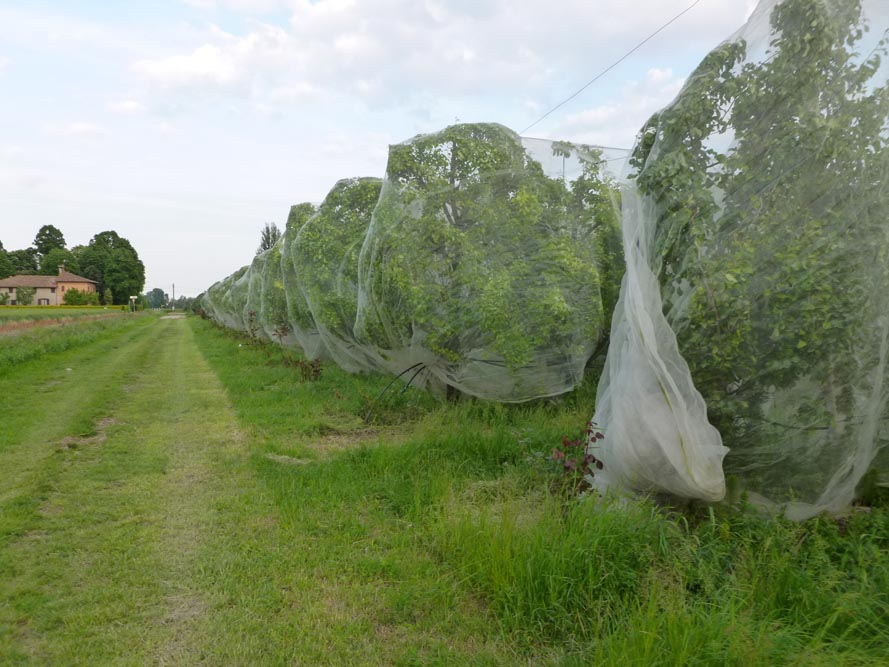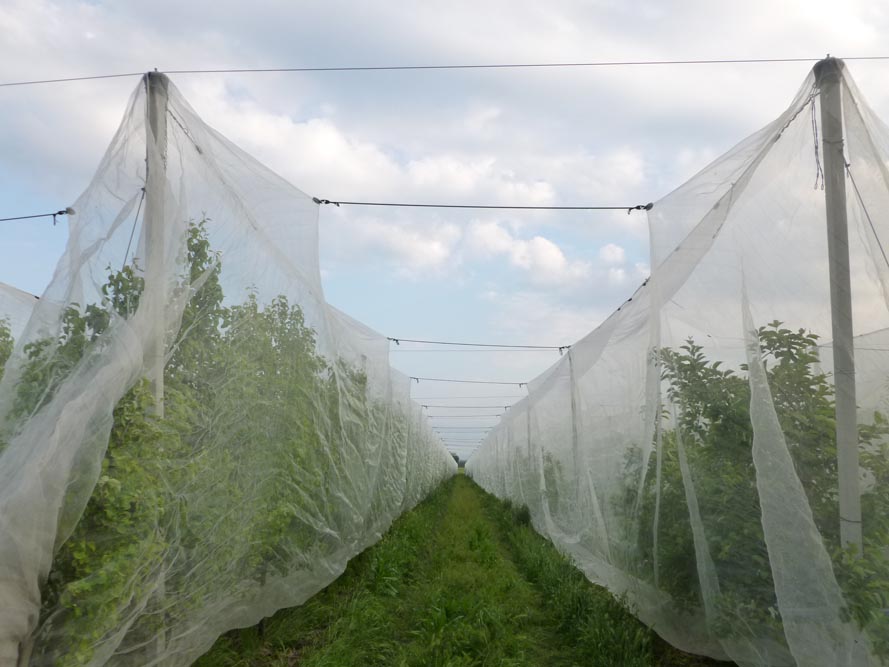 ruggeri's Farm
Argelato
Mr Stefano Ruggeri is a member of OROGEL Fresco in Cento (Ferrara); he owns a 20 ha farm and grows 4 ha of organic pear and apple orchards.
He has been carrying on this kind of sustainable agriculture since 2010, and he has installed anti-insect and anti-hail single row covering systems.
The orchard installations feature Spinazzè concrete and wooden poles, a 4×4 anti-carpocapsa mesh net wraps each plant entirely with just a few special arrangements.
Using our system, starting from the very first installations, nets are separeted from plants by means of elastic bands placed at a 5 m distance along each line on the top, while they are tied to the base by means of elastic ropes (Bayco).
In this way the fruits are not ruined by the net and the net is not damaged by tree branches. Bayco wire is used on top to protect the net (lower temperatures and lower friction) while on the lower selvedges it maintains the net in place and makes lifting much easier along the rows.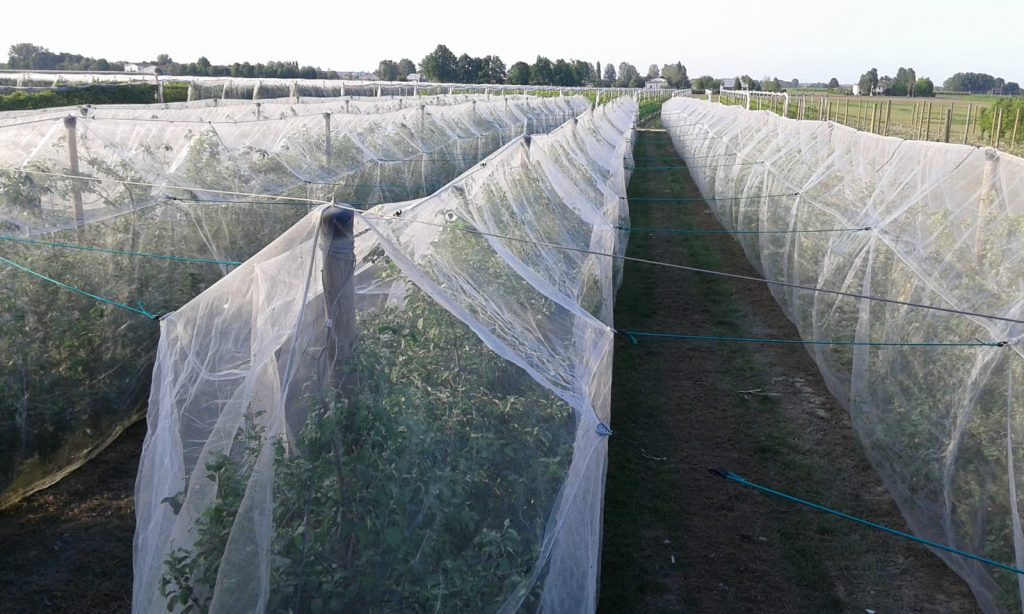 Riccardo's Farm
Pieve di Cento
Riccardo's farm is owned by EUROVO group in Imola, a national leader in egg products.
The farm extends over a surface of more than 120 ha, 35 of which have been already planted to grow pears, apricots and plums; they are in part covered by anti-hail systems and in part uncovered. All installations have been developed using Spinazzè poles and accessories under the supervision of the farm's manager Mr Vincenzo Busatto, who has been cooperating with EUROVO group for more than ten years. Mr Busatto supervised orchard installations, guiding the teams of workers that have worked on this kind of structures for the first time. Given the good results of the first installations we will see 35 ha of orchards in the near future.