06 Dec

Apples, tractor burns and other stories – a Conversation with Gianni Moscon
Gianni Moscon is a professional cyclist riding for Team Sky. He is considered one of the emerging talents of the world tour. When he is not riding he loves to devote himself to country life.
Seen from the orchards perched on the steep mountain slopes, Val di Non looks like a winter painting, with the snowy mountain peaks, the fir trees and the lake down there reflecting the sky.
Up here, where roe deers come to hide and the silence reigns, the apple orhards of Gianni Moscon's family lie. Gianni had never thought of becoming a professional cyclist and now that he rides for one of the leading world teams and made Italy dream at the Championships in Innsbruck, he still admits that he thinks of himself first of all as a farmer and that his heart is indissolubly bound to this enchanting valley where the world's tastiest apples grow.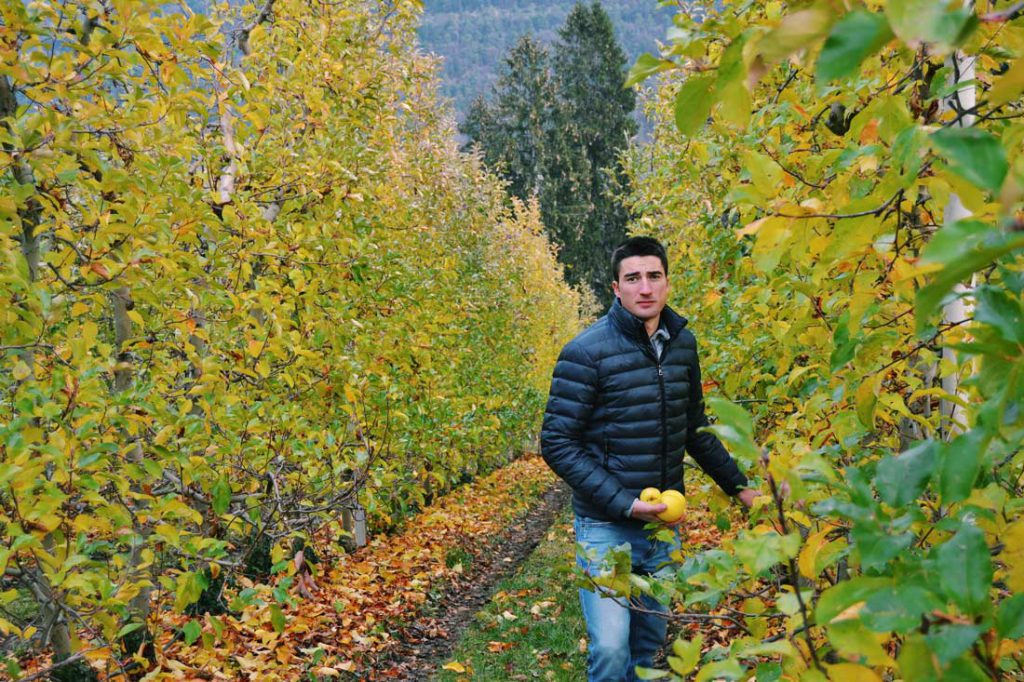 Gianni, please tell us the story of your family's farm.
My father's grandfather was a blacksmith, his workshop with the water mallet was along the creek, just like it used to be at that time. When he got ill, the same old thing happened: my great-grandmother had to go and buy meat for him and not having enough money to pay the butcher, they started to sell the land. At the beginning of the XX century every family here owned a litte piece of land. After one year of illness my great-grandfather died and my grand-mother was left alone with small children to be raised up.
So she started to sell the pears that she had in the small plot of land tha was left: she used to put them in a basket and walk to Rumo and to the nearby villages, she had to walk ten or fifteen Km every day to sell the fruits. Around here, at that time, agriculture was just subsistence agriculture, but while selling fruits she started to save some money that she would reinvest later to buy plots of land.
Then, as time went by, her two sons (my grandfather and his brother) started to work in the farm as well. They were selling fruit, vegetables, carobs. In the beginning they used to walk to the market, later they went by mule, and eventually they bought a three-wheel tractor. They kept on saving money and re-invest them in agriculture. After they get married they split their shares and went on with their parallel lives: trading and agriculture. My father did the same, he had been selling fruits and vegetables till 1995 when he got ill and had to stop working for one year: we had a hard time back then! Since then we dedicated ourselves exclusively to agriculture as we are still doing today. Yes, we are farmers, and yet we maintain this trading tradition. That is why we haven't joined any cooperative, we are still on our own and we feel this enterpreneurial vocation.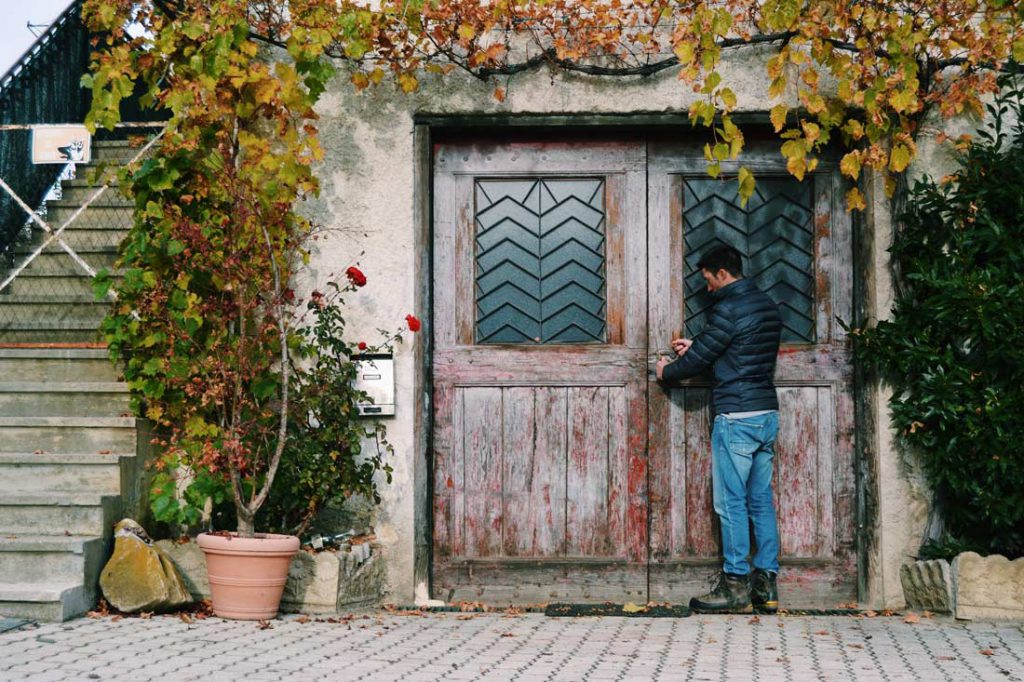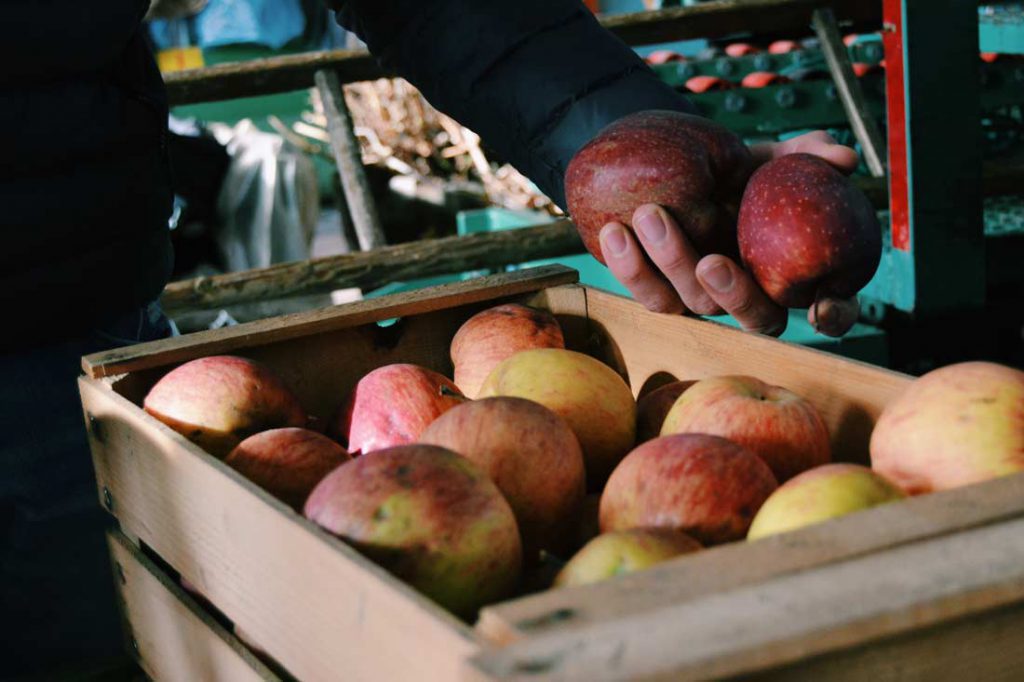 How many hectares do you own at the moment?
We own small plots of land perched on the mountain's slopes. We now have almost five hectares of orchards, considering the structure of our territory it is a great deal already.
Which apple varieties did you plant on the orchards?
95% are Golden variety, we also have a few Red Delicious, but just for pollination.
How did you get passionate about agriculture?
I think the passion was there even before I came to this world! I think it's been so spontaneous: I grew up among apple orchards and I moved my first steps on the orchard.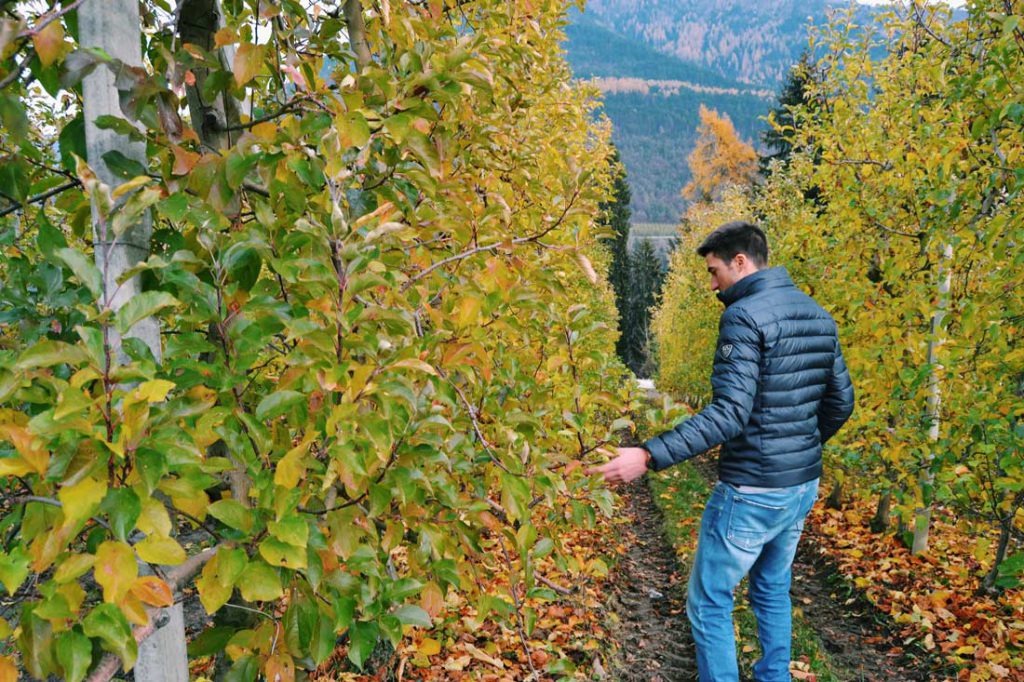 What was your dream when you were a child?
My dream was to become a farmer: I have always had this great passion. I studied as an agriculture expert, I passed the state exam and I signed in the national register but I have never been a consultant for third people. My will has always been to work in this field but not as a simple farmer, I wanted to develop our farm company.
I have always ridden bycicle just for fun, because I loved it: it is so beautiful here, riding across the valley with all the nature around you. When I got to the last year as a junior I said to myself: "Why not try and see whether cycling can become a job". Team Sky proposed me the contract to become a professional rider and here I am! I would have been a fool saying no, but truly speaking I still feel a farmer more than a professional cyclist.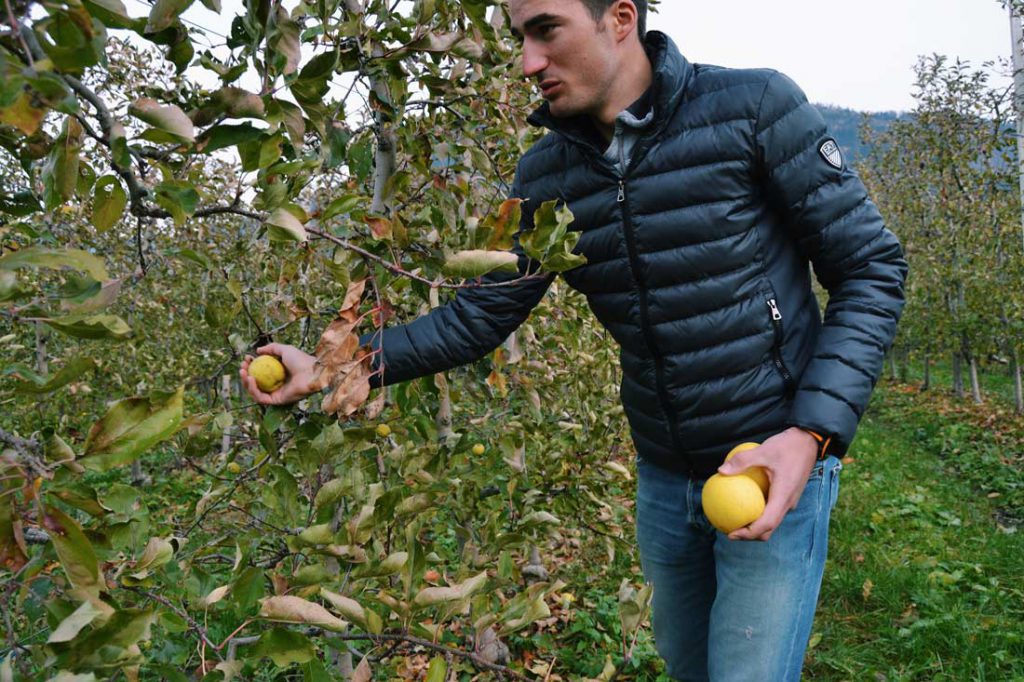 What do you do in the orchards usually?
I do everything that is needed! I don't have much time because of my job, but as soon as I have free time I love to come up here. After the World Championship, for example, I came here to help picking apples.
Did you learn from your father?
Yes, I grew up in the orchard with my father, I was always with him, and when I was back from school I used to go straight to the orchard to help him. I still have good memories of my grand-mother. She took me with her to do small activities: she took care of everything, she used to tie the branches bending down because of the weight of apples in order to prevent us from damaging them while cutting the grass. This is the culture of older generations, taking care of small things. It is something that isn't happening anymore because this mindset would clash against our frenzied pace world where we don't have time to lose for such details.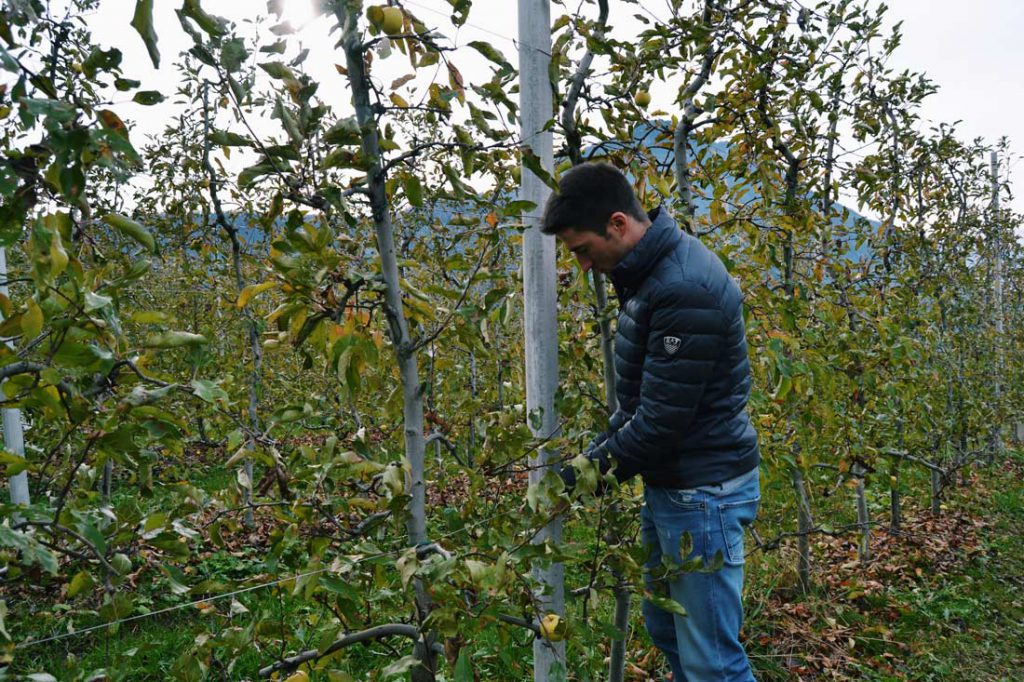 They call you "The tractor from Val di Non" and it is not a case. Tell us about your very first experience on a tractor.
I have always been incredibly fond of tractors. I remember when I was a child I accompanied my father to cut the grass: I was a child and I always sat on the fender, just to stay there and enjoy the sound of the tractor's engine. That was enough for me. Later he started to keep me between his legs, standing, and I was driving, I was holding the steering wheel and he was pushing the pedals: I had a great time. Back then we owned a pretty old tractor, with no protections, there were hot oil tubes along the central tunnel of the gear and sometimes I would touch them with my leg and get burned. I went back home with big burns on my skin! But it was something heroic.
When I was nine or ten years old I started driving the tractor alone: I was in the field, I drove at a walking pace, I stopped, simple things, you know. I grew up like this, I don't know how to explain that: other kids liked miniature trains, I loved tractors. I even owned the scale models, the well designed ones with rubber wheels, they are so beautiful that I would still buy them today.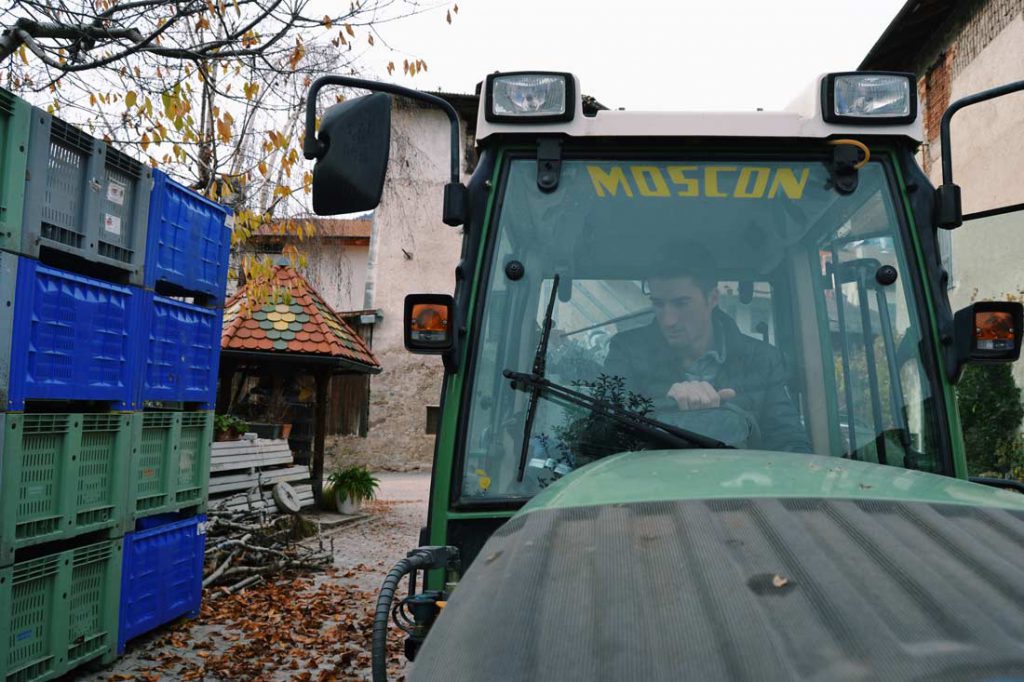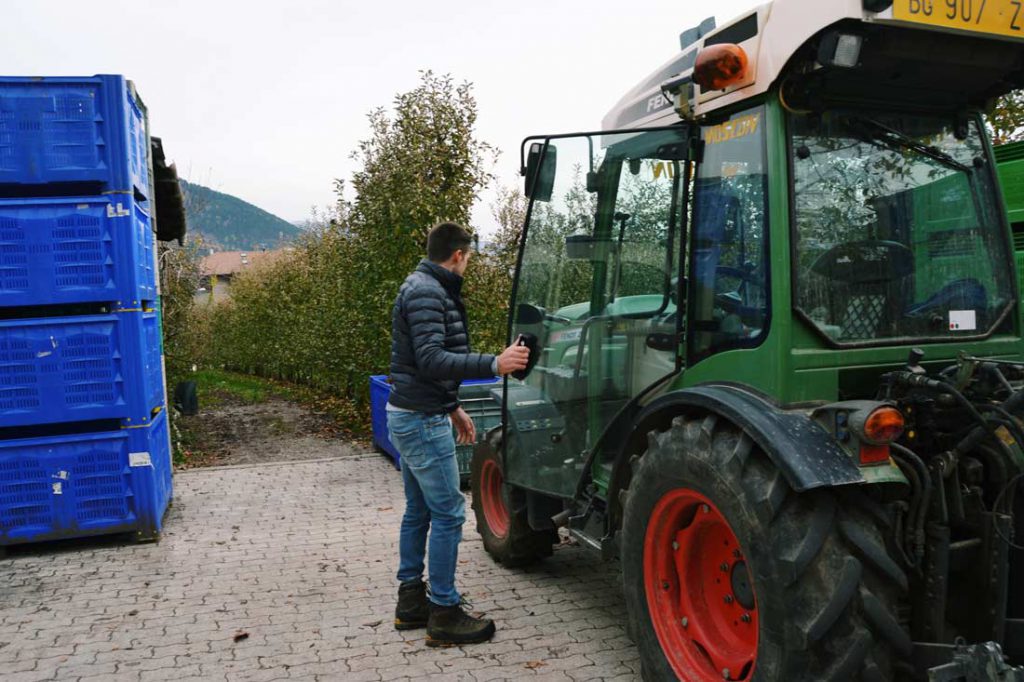 Are there only apple orchards in Val di Non?
A long time ago, there were vineyards on the slopes down to the lake. They made a wine from them called Groppello; but at that time farmers didn't have the technology to make wine the proper way, the wine was harsh and acid, so they stopped growing grapes and in the Seventies apple trees were planted.
Nowadays a few vineries have started making this wine again: they use modern technology and the wine tastes good although it still is a niche product. From this point of view wine-grape growing should be taken into account in order to promote our territory. I think that aromatic varieties would do great here, whites like Müller or reds like Merlot, I am sure that great wines can be produced here.
What are your future projects for your family's farm?
First of all I would like to make it bigger: buy more plots of land, invest on the land, even if it is not so easy to do that right now. Very few people are willing to sell the land here and if you want to buy you have to look for it 20-25 Km from here. Maybe in ten years the situation will change with new generations coming by; it also depends on how the market will be evolving, at present it is a big mess and the price of the land is way too high compared to the harvest.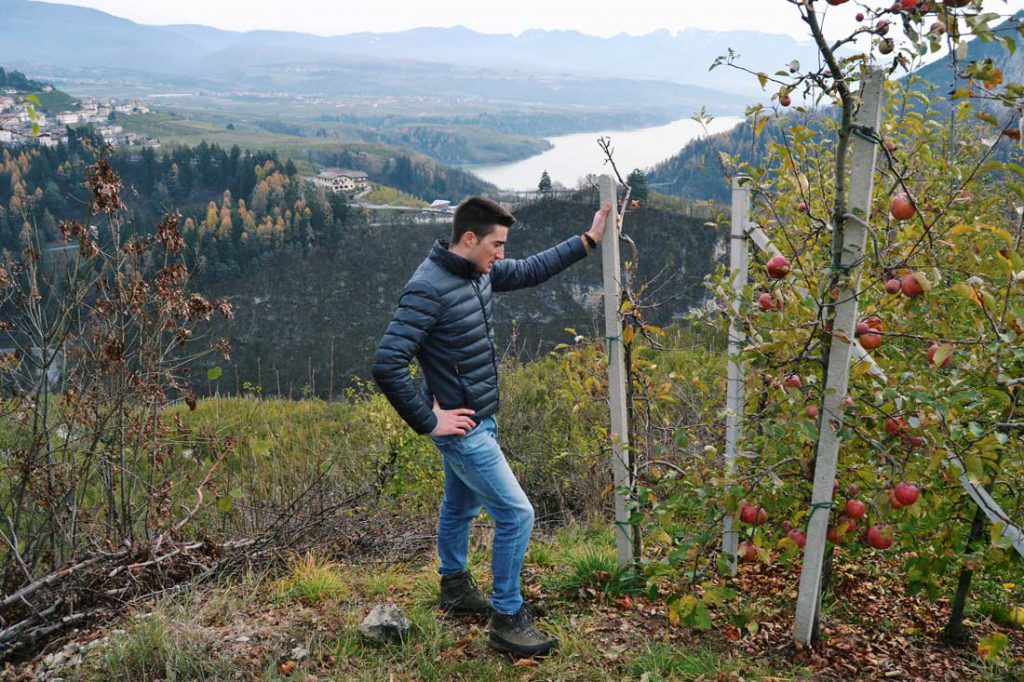 Would you be happy to develop in this valley something that is truly respectful of agriculture, territory and local people?
I have a special bond to my land, when I am away from home I always want to come back. I would like to make it more competitive from a commercial and touristic point of view. I would like to develop agriculture in a broader sense. Fruit growing still has something "heroic" here, the mountain is steep, many activities have to be carried on by hand because agricultural vehicles cannot move here, so it is very hard for us to compete with other countries. We have to invest even more on the apples' quality because this is our best side: the territory, sun exposition, climate, and altitude help us to produce top quality apples. We should promote the good culture also for those who are at the supermarket and have to choose what to buy. We should also promote our valley for tourism: we have many wonderful places around here that are almost unknown.
How much is the vocational nature of the territory important?
I think it is the most importan thing. Generally speaking I think that the local consortium tends to flatten our reality. Apples are very different whether they come from the valley floor or from up here.
The Golden Delicious, for example, has its best examples here in our area, in Livo and in Revò. The quality is fantastic due to the characteristics of our territory; it wouldn't make sense to plant Gala up here, because it is an early produce and in lowland areas they pick it up in August while up here we would have to pick it up in September. I think we should diversify production, aim at quality and at the territory's vocation, trying to develop something good and attracting around it.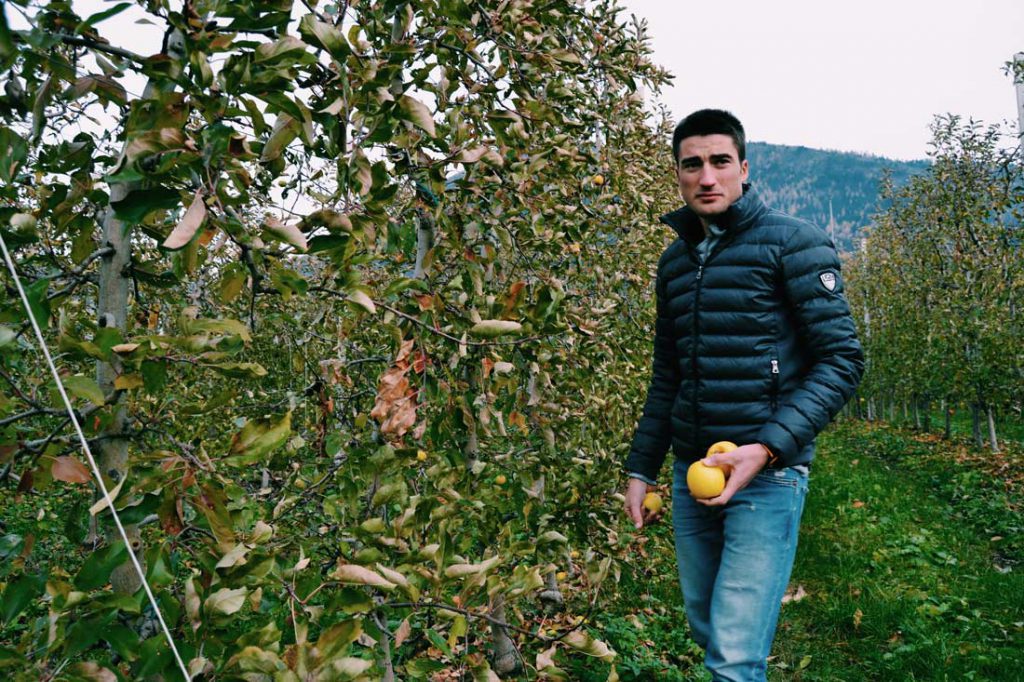 What is the first nice thing that come to your mind when you think of life in the orchards?
The best moment is harvest time. There is such an atmosphere, many home-run farmhouses still maintain their tradition of sharing, having a mid-morning snack all together. It's something like a party and it is also a way of bringing people together, because when it is harvest time the whole family gathers together and also those who live far away come to help. Here, on sunday, my sisters come with their boyfriends, my aunts, my cousins, we all stay together. It is so beautiful. This is becoming more difficult nowadays because you have to keep up with the world's pace and you have daily deadlines to observe. There is also another side that I like so much, it is the fact that when it is harvest time, eventually you can see the outcome of your sacrifices. When you see the boxes all full with apples you can really feel proud of that.