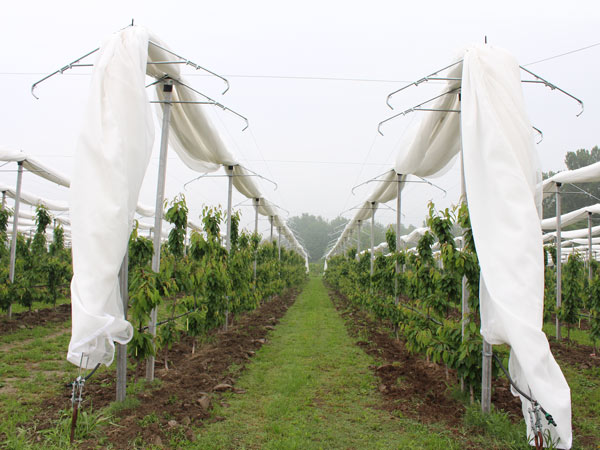 31 May

Keep in touch netting system for cherry orchards

Drosophila Suzuki, Halyomorpha Halys, Popilia Japonica, these may sound like innocuous names of species to many people, but not for those of you who are working in the fruit growing business. For farmers these phytophagous insects are real nightmares. After arriving in Europe from the far East they have been causing huge damage to orchards in many countries, increasing costs both directly (massive use of pesticides) and undirectly (rejected fruits in post-harvest sorting). It is thereby necessary to find new ways of defending your orchard at a reasonable cost for yourself, and for the environment.

In recent weeks we have been touring Italy and meeting our best clients, discovering some really nice orchards that are worth sharing with you. The "Casa Claudia" farm near Modena is a very good example of cherry tree protection using single row netting.
SINGLE ROW ANTI-INSECT AND ANTI-RAIN NET
In this 2.5 ha of cherry orchard (six varieties belonging to the entire Sweet selection on Gisela 6 rootstock) a single row Keep in Touch netting structure has been installed.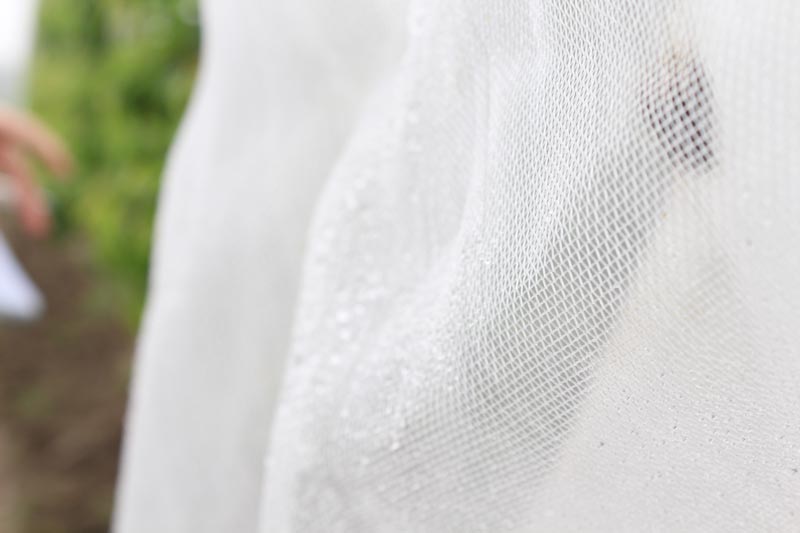 The first thing that stands out is the extremely thick texture of the net. This can prevent parasites to fly into the orchard, including Ceratitis Capitata  (Mediterranean Fruit Fly). A plastic anti-rain film is installed above the net in order to protect the trees from heavy rains causing cracking on the fruits. A further level of protection enhanced by the double net+film covering concerns fungus pests, for example Monilia and Coryneum blight. Such protection is also guaranteed by the net's slight electrostatic field that prevents the fungus spora to move from the soil to the trees.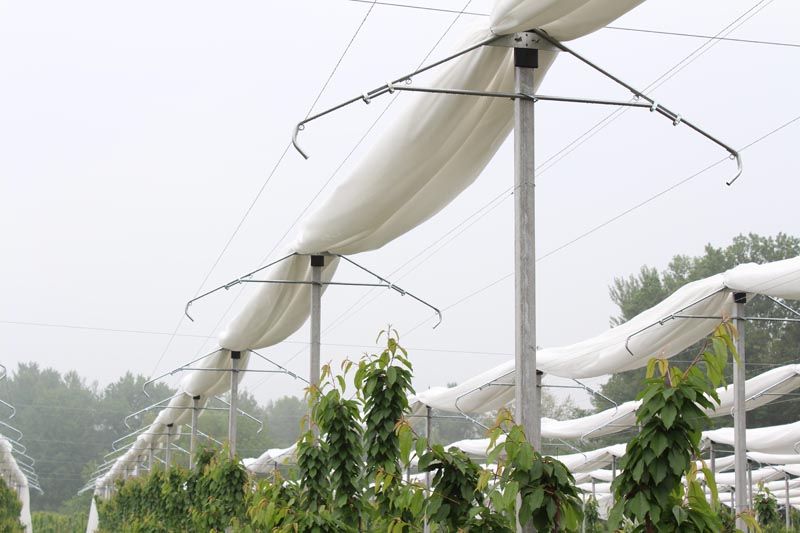 According to Mr Trenti and Mr Tonioni, the single row netting systems prove to have even more benefits, for example protection against spring frost damage, especially at high altitudes or in cold climate regions, but also protection against winds up to 120 km/h. In dry areas like Spain, the net's electrostatic field keeps sand away from the fruits avoiding problems during the optical sorting of fruits in post-harvest operations.
In brief, as the owner of Casa Claudia farm told us, a single row netting system like Keep in Touch brings a great economical advantage due to the following factors:
very low use of pesticides
lower us of fungicides
less working hours per ha
protection against rain, wind, frost, birds, sand
possibility of biological farming
As for harvesting there are many options. As for the main supporting structure, the fact that rows are separeted from one another, there are a few facts that must be taken into consideration. First of all it is important to prevent lateral waving of the cloth caused by the wind blowing through the netting system. The most suitable poles are reinforced concrete poles coupled with an anchorage system.
Keep in touch system is continuosly being updated and adapted to the features of the orchard. Mr Tognoni and his staff have recently introduced an alternative version that employs elastic ropes holding up the netting system.